I had very high hopes and strongly believed that Manchester United would secure a win against Young Boys. My fellow Manchester United fans can understand my disappointment due to the last-minute loss to Young Boys. But I'm mature enough to accept the defeat and therefore understand that after winning together during the weekend, must now lose together. I noted some errors which I intend to share with you in this article that addresses the mistakes leading to Manchester United Loss against Young Boys.
I had done my due diligence of both teams and was certain that the Manchester United team would bag the three points. Earlier this afternoon I even sent out a passionate tweet expressing my confidence in the team. But my research has helped me understand the game extensively and identify some errors that have cost the reds three points.
Coaching Staff.
I have so much respect for the coaching staff. Both Michael Carrick and Ole Gunnar Solskjær have a great history at old Trafford having been former players in the club. I believe that they both have an extensive understanding of the game but I felt let down during today's match.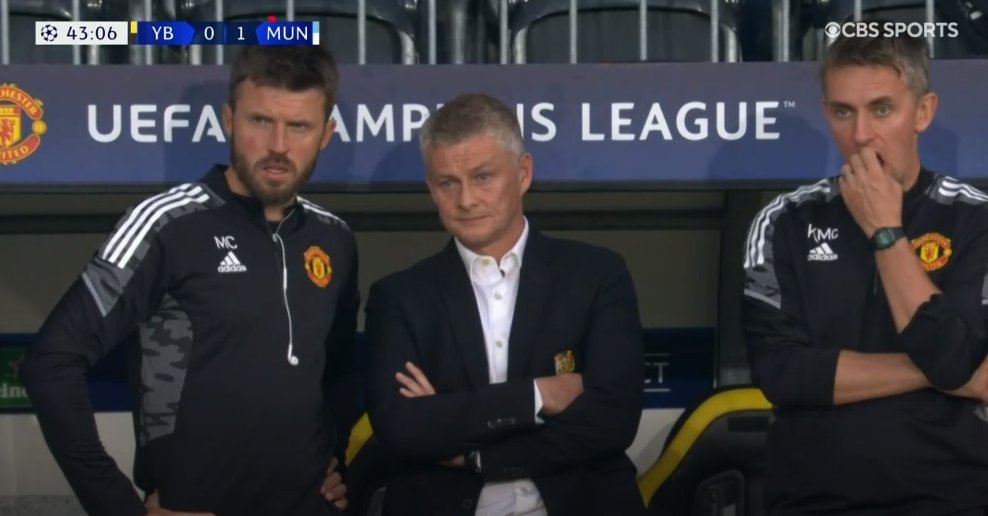 My first concern was in the starting team, specifically starting Jadon Sancho. He is a top player but in recent games, he has not portrayed world-class striking. I have cut him some slack in the last two appearances, but we must acknowledge an error when we note it. He lost some crucial ball possessions that could have counted as scores against the opponents. The error in the coaching staff was starting Sancho.
Raphael Varane should have been part of the starting team. During his last appearances including tonight when he joined mid-game, he has shown his capability to relieve pressure. Well, that did not change the trajectory of the ending but I feel that Varane should have been part of the starting team. I also think that substituting Ronaldo with Lingard was not a strategic move. The team needed to pressure the opponents and no one would impact that pressure better than Ronaldo.
The coaching staff did their best but they could have done better. To be honest they made several decisions that cost the team a win. The team was ready but they lacked the coaching staff's support for tactics and strategy. If the coaching staff doesn't do something, then the future of Manchester United is cloudy despite having the GOAT back in the team.
Wan-Bissaka's Red Card
I'm a big fan of wan-bissaka since his debut at Manchester United. He is very talented and one of the best right-backs to grace Manchester United. However, I have to admit that tonight's tackle that saw him get booked was sloppy. I mean come on wan-bissaka, we have seen you do some sophisticated sliding tackles at ease. What was that you pulled off today?
That was a sloppy tackle that not only earned a red card but also created a vulnerability in the defense. Wan-bissaka has a crucial role in the right-wing and going off the pitch was a big blow to the team. Well, Diogo Dalot was an excellent replacement but we must acknowledge the adverse impact of Wan-bissaka's absence in the rest of the match.
What the People Think on Twitter
Overall, It was a good game but it wasn't the best game. We continue to have faith in Manchester United and hope for better wins.
If you would like to add something on the mistakes leading to the Manchester United loss against Young Boys, please do in the comment section below. Also, check out other articles in our news section. Until next time, Adios.